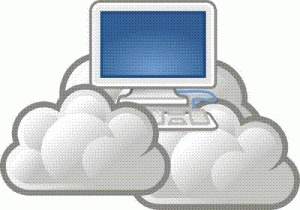 The term 'cloud vps' refers to fully redundant and self-healing virtualized servers with automatic fail-over capabilities accessible from anywhere on the Internet.
The actual term 'cloud' is coming from telephony services in telecommunication companies who until the 1990s provisioned mainly dedicated point to point data circuits. Then they began providing Virtual Private Network (VPN) services with corresponding quality of service but at a greatly reduced price.
Cloud hosting is based on the most advanced Cloud computing technologies that allow virtually unlimited number of physical servers to act as a rock solid efficient, stable, secure and reliable system intended to deliver more flexibility to clients who can create and destroy their own cloud virtual servers or increase/decrease their cloud virtual server computing resources almost instantly as needed. It is an emerging technology that enables the pooling of large number of separate physical servers and computing devices together so that they act like one, and websites or consumers resources (active processes, user applications) pull resources for computing from the pool as a whole.
Other hosting solutions (shared hosting, conventional VPS hosting or dedicated server hosting) rely on one server machine only where all CPU, RAM and disk resources are limited to the host server resources itself, while cloud hosting is flexible and fully redundant because it is guaranteed by many physical servers. The cloud technology allows higher security of data and seamless customization, full wide range of operating systems for your needs, databases, server software and applications to fit your requirements. Addition of extra resources to a particular cloud VPS, such as CPU cores, RAM, primary and backup disk space is easy and instant and thus provide scale out computational resources whenever required to that cloud VPS, without compromising the stability and performance of other cloud servers or even the entire cloud hosting system.
The main benefits of the Cloud VPS Hosting are:
Highest level of performance, self-healing and auto fail-over at affordable prices
Guaranteed amount of server resources (CPU, RAM, Disk) at any given point in time
Fully redundant data storage
No single point of failure
Flexible pricing
As computer technology continues to advance so do the capabilities of the cloud hosting. As faster servers become available and storage area networks (SANs) continue to grow in size, the cloud hosting industry will also continuously enhance its services and standards. The improvements in the computer technology will most likely demonstrate on the reduction of time it takes to execute a simple computing process. It goes without saying that the data processed in an hour today can be done in just a minute or even seconds in the future. Faster processors, RAM, disk drives and network connections will be the main factors of this advancement.
The Cloud VPS hosting shall become the primary hosting choice of companies and individuals due to the excellent dynamic and versatile features it offers, due to its flexibility, unbeaten reliability, ease of management and use, cost-effectiveness and price-performance ratio it offers. If you are a website owner and want to give your precious visitors the best ever site browsing experience by making it more time efficient, then you may need to think about it and move to a cloud VPS.
PS. If you liked this post please share it with your friends on the social networks using the buttons on the left or simply leave a reply below. Thanks.